Today, many businesses rely on organic traffic and SEO to generate leads and sell products.
Posting SEO-friendly blog posts to promote products organically has been one of the highest trending marketing methods for decades.
As a freelance writer, you should have an understanding of SEO and how it functions. This will allow you to work with your clients to achieve their business goals.
Also, many clients only hire writers with a background in Search Engine Optimisation (SEO), so learning it can expose you to more opportunities and jobs.
In this post, I'll share a few tips I've learned from my clients' content strategists and my personal experience to write SEO-friendly blog posts.
Tip #1: Post Regularly
If you've ever worked with a savvy company or client, you've probably noticed how insistent they are on keeping their content wheel spinning.
The secret behind this strategy is that it shows Google's algorithms that your website is still active. As a result, Google will keep crawling and ranking it in its top results.
Tip #2: Write Long-Form Content
According to an analysis by BuzzSumo, in-depth blog posts get more shares than short form articles (1000 words or less.) The graph below shows that blog posts with 3,000-10,000 words get approximately double the shares a shorter article gets.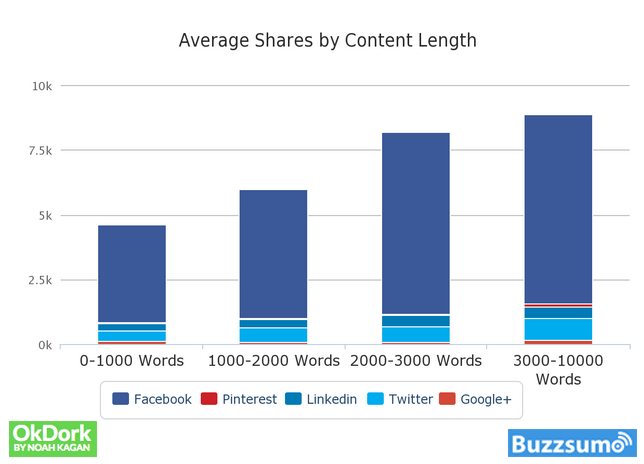 This is not a blanket statement, however. Many websites such as Ben Settle's blog get thousands of shares despite posting short-form content. Sites like this rank well on Google thanks to social media engagement.
But not everybody is Ben Settle, and we should still rely on long-form content to rank on search engines.
A study conducted by SerpIQ shows that just 400 words less than your competition can put you 10 results behind, as you can see in the graph below.
Personally, I'd rather read relatively short articles (less than 1,200 words) that summarise information, than in-depth posts that feel like reading a book. It's hard for me to keep my concentration over 9,000 words.
Tip #3: Use Focus Keywords Sparingly
For articles under 400 words, SEO expert Joost de Valk from Yoast suggests a 1-2% keyword density, and less for longer texts (400 words or more.)
Include more and you run the risk of tripping keyword penalty filters. Use focus keywords excessively in your articles and your activities can be detected and considered as spam by Google. This can lower your rankings on search engines.
Many writers have a habit of inserting keywords in every paragraph they write — you should not do this!
Tip #4: Use SEO Plugins
To write SEO-friendly posts, WriteWorldwide relies on Yoast SEO Plugin, a WordPress tool that measures both slight and critical aspects of your articles (i.e. keyword usage, outbound and inbound links, readability, etc.)
Actually, the majority of WP-based websites use Yoast's tool to optimise their blogs to perform well in Google Search Results. So, it's highly recommended for all freelance writers to make their work SEO-friendly using this plugin.
It's also crucial to use a few other SEO plugins like Google Sitemap and Google Analytics.
Even though SEO basics can be easily learned and applied, writing high-quality content is still vital if you want to rank well on search engines.
Do you have any valuable tips to share?